That can't be right! My singing feels too easy!" Wouldn't you love to be able to say that? My students usually say that to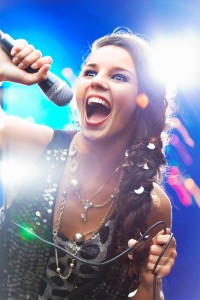 me in anger or fear when they have a huge breakthrough. "Now what?!" Is the next question. The answer is, now you can be an artist. Now that we have trained the push and struggle and strain out of your singing is free! You can now focus on the song.
My job as a voice teacher is to help people get out of their own way so their brilliant singing instrument can work naturally and freely.  The result of that work is a voice that feels "too easy". In fact you don't feel much except for vibrating sound.
The struggle with your singing is what makes you think you are doing something productive. The strain and pushing make you think you are helping your voice sound better. Manipulating the larynx is how you think you can control pitch.
Sorry folks, but all those "think-s" are un-truths you are telling yourself. (Watch a clip of MythBusters for Singers for more)Voice work, singing especially, is counterintuitive. The actions you think will help your singing do not help, they do harm. Those "think-s" make you hold the sound instead of releasing your voice.
Sound is vibration. If you stop the vibration you stop the sound. If you manipulate what is vibrating you alter the sound. That's why so many people sing out of tune. Because they are trying to manipulate or control how the vocal cords are working which actually causes the wrong pitch to sound.
Usually great singing happens the opposite of how you think it will.
Picture a sound wave.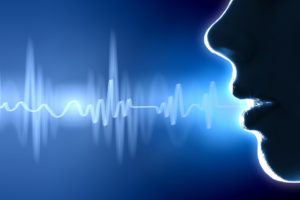 When your singing is free, the sound does not stay in your mouth, it travels. You must allow the sound to leave your body and travel out. When you struggle and strain, you close down that instrument and actually hold the sound.
You create the sound and then what? Your singing voice, the actual sound, when your voice is free, takes on a life of it's own. It continues to travel out into the space or into the microphone.
Music, songs, singing sound has a life of its' own. You can even say that music comes through you. When the voice is truly free and you are way into the song, the song begins to take over. You think thoughts about the song you've not had before. The lyrics might mean something different than ever before. Your voice becomes powerful or soft or sultry to reflect what the song is expressing – through you. That's when you become a true artist.
How do you achieve singing freedom and become a true artist?
It is a journey that takes time and energy and loads of training and practice – and it's worth every moment and every penny it takes.
Here are some essential steps to singing freedom…
Study with a great voice teacher
Practice daily training your speaking voice as well as your singing – same thing really
Observe and make adjustments when you practice
Never, ever beat up on yourself about your singing
Listen to great singers – live or acoustic recordings
Perform often ever if only to your pet
Learn what your singing fears are and face them
Trust your perfect, natural musical instrument, your voice, to be amazing without pushing, manipulation, struggle, strain or reaching for the notes
Sing like you speak – simply and naturally
The first bullet point is where most people get hung up. Yes, you must study with a voice teacher who knows how to teach and knows the voice and how it works naturally. Beware of charlatans. Anyone can hang out a sign saying they are a voice teacher. I've heard horror stories from my students.
No excuses! Private lessons are the quickest, most efficient route to vocal freedom. Can't afford private lessons? Check out online training. It's convenient and inexpensive.
My hope is that everyone who has the desire learns how to sing like an artist. What a happy world we will be!
BIO: Sally Morgan, NYC voice teacher, wrote the book on contemporary vocal technique — literally. Sing Like You Speak ™ is specifically designed to restore the effortless vocal production that is natural to the human instrument making your singing powerful, joyful and free. Sally has been successfully teaching people how to sing for more than 35 years.
You can see and hear some of Sally's clients on Broadway stages, Off-Broadway, in Musical Theater – Regional, on Major Label Recordings, the Conan O'Brian show, A Prairie Home Companion and in Federal Courts, the PA House of Representatives, and the U.S. Senate.
Sally teaches singing voice lessons in NYC and worldwide on ZOOM.
Online voice lessons http://SingLikeYouSpeak.com/onlinelessons